Featured Artist of the Month: September 2019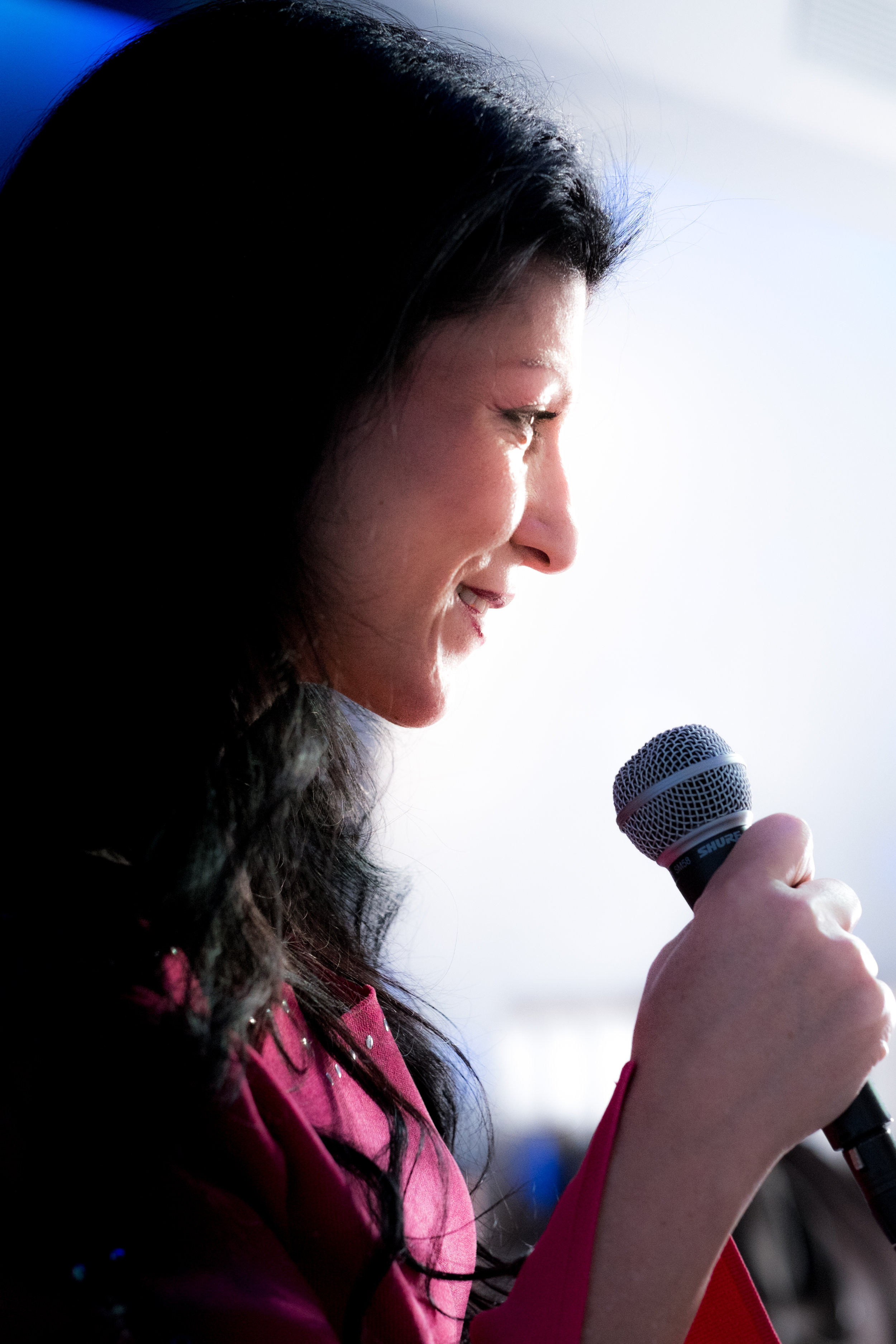 Music, Business & Entrepreneurship
This month we were lucky enough to sit down with badass female entrepreneur and singer, Jasmine Sandler, who is the original Wonder Woman in Business and is also the co-host of our Art of Entrepreneurship event on September 26th!
Q. Tell us a little about yourself — where are you from, where did you go to school, what do you do, how did you get into it, etc :)
Boston, Undergrad FDU , NJ. Grad School UMiami dual MBA in Marketing and Consumer Information Systems. I have always had an interest in Advertising and Branding since the first time I remember watching a commercial on TV when I was 5 years old , I knew I had to be the one to make things known and beautiful!
Q. I know you have multiple brands — can you tell us more about each of them and the inspiration behind them all? What do you hope to achieve through Wonder Women in Business, in particular?
My brands all reside under my JS Media company, which is a Media and Digital Marketing agency that focuses on serving the Branding, Digital Marketing and PR needs of female led businesses and their key people. We deliver personal branding and social media consulting, training and management. I am also a keynote speaker and offer training for women's business based member-association and corporate D&I groups. We also offer digital marketing strategy consulting and coaching to C-level executives to support online brand awareness and audience growth. My brands include:
• Jasmine Sandler Digital Marketing Training & Consulting — I have delivered over 500 Keynote Talks, Workshops and Panel Presentations on Social Branding, Social Selling, LinkedIn Marketing to Fortune 100 companies and member-organizations. I also provide consulting to companies and individual brands looking to build and grow their online audiences and their thought-leadership.
• Jasmine Sandler which offers a library of digital marketing DIY courses for companies and entrepreneurs as well as custom course creation for internal employees and franchisees.
• BrandYouConference — an annual conference series created by successful female executives to support and provide mentoring, coaching and best practices on business-building for female entrepreneurs.
• Wonder Women In Business Podcast & Event Series — a video and audio based podcast series on business-building, career development and supporting the growth of women's initiatives in the corporate world. I do weekly interviews with top female executives in NYC as well as female entrepreneurs who are really moving the needle for women in business. The event series and WWIB membership are an in-person series of business networking, educational and social events supporting the WonderWomen in Business podcast audience.
• Agent-cy — The agency behind JS Media which I founded in 2006. We have been helping small businesses achieve their marketing goals using sound digital marketing tools including SEO, social media marketing and content marketing.
Q. Did you always know you wanted to be an entrepreneur/ start your own business?
Being an entrepreneur means you have a drive to create something significant. It means you see things others don't necessarily see and are a creative thinker/doer. I have always been this way. I have had my own business since 11 years old when I started a yard and garage cleaning service with my best friend because I saw it as a way for me to make my own money while also supporting the neighborhood.
Q. What do you love and hate most about being your own boss?
What I love is that I can make my own time. I have many passions including writing and performing my own music and playing hockey. I also really value time outside, so for these reasons I need a work situation where I can have daytime to myself. I also love the fact that I can bring my own ideas and visions to life.
What I dislike is the worry about money. It is the hardest part of being your own boss in my opinion, period. You are smart, have great ideas and experience, yet if you don't have funding or steady revenues, then it is very hard to scale with professional support. I know that when (not if!), my business reaches its full potential, I will be able to focus only on doing what I love, which is really the creative thinking, strategy, deal-making and speaking work. For now, I do need to do tasks I don't like, but I know this makes me a stronger and smarter business owner.
Q. In addition to being a badass female entrepreneur, you are also a singer in a band and soon to release a new single/album!? Can you tell us more about that and the inspiration behind it?
Oh yes! My favorite question! I have been a poet and writer ever since I can remember. As a little girl I had already written a whole book of poems, deep and emotional, many would call them (I have been compared to Edward Allen Poe at times for my lyrical style!). I have always surrounded myself with artists and musicians as I have found them to be the best fit for me in terms of intriguing conversations. So about five years ago, after trying my hand at the guitar, I said to my teacher, "can I sing instead?", and after one song both of our eyes lit up, and off I went.
Since then, I have led two rock cover bands to finally find my home in doing what I LOVE more than anything else — writing my own original songs with my new band, which I lead and direct. My artist name is JazzRock, and my band name is Silent Fury. Our first single, "Calling 911" is a song I wrote as a punk rock anthem against domestic violence. It is being mastered as we speak, and I am releasing it on 9/11 as a way to share something positive on a usually negative day and also as a pre-release before Domestic Violence Awareness Month in October. Unfortunately, as a very small girl at the ages of 3 and 4 years old (before my parents divorced) I can remember my father hitting my mother, and this song is for her.
I will be performing that song, plus another original I wrote with my band, on October 19th at the West Park International Music Festival! It will also be released on Spotify shortly, but in the meantime, you can use this link to view a clip of us performing it at an emerging artists event in Times Square.
Q. What do you love most about music and what keeps you motivated to pursue it on top of all your many other responsibilities?
I love getting in a room with my band and creating music. I love taking it from pen on paper to a finished piece. I love making an impact with it. I love it all! Music to me is not a responsibility. I strongly feel that writing songs is something I was meant to do, and becoming the best singer I can be supports that. I take it very seriously , but when I am actually doing it, I am the happiest I can be!
Q. Do you see any overlap between music and entrepreneurship - do you think one helps inform the other?
100% YES! In that what I do and have done for a living for SO many years is build brands and market them from things that have been or are being created. I see the art of making music and then shaping it and all its pieces in the same way I build businesses. My band says that I am the business brains behind it all. I am all about supporting musicians. I recently shared marketing, branding and social media tips and examples on a music podcast which you can watch on YouTube here. And at my agency, I have created special programs to support musicians and bands.
Q. What artists, bands and musicians inspire you the most?
Wow, that's a huge list that ranges from Mozart all the way through Amy Winehouse, Evanescence, Mike Patton, Jack White, Queen, The Doors, Marilyn Manson, Pearl Jam, Nirvana, Alice in Chains, Kittie, Brody Doll, L7, Bad Religion, Flyleaf, Pretty Reckless, Henry Rollins, Otep, Depeche Mode, Iron Maiden, Judas Priest, Metallica, Britney Spears, Craig David, Muddy Waters, Steve Vai, Guns N Roses, Eminem, Dorothy, Dio - honestly there are just too many.
I look for music that is smart and has meaning. I go to concerts 2-3 times a month and am always open to new music. I support other bands and artists as much as I focus on my own music!
Q. Why are you excited about our upcoming women of Culture/ WWIB Art of Entrepreneurship event, and why do you think people should attend — what will they get out of it?
This is an event that is not only needed now but has been needed for a long, long time. In what I do for a living is support women in business, I am well aware of the lack of support for Women in the Arts & Music. I think what we are doing will immediately help those creative women who have struggled with making it as artist/entrepreneurs by giving them education, tools and direct access to other women who have made it. This is my mission so of course I am SO excited!
For any woman who wants to make her art (and craft) her living — this is a must attend! I know we are already half-way sold out, so anyone who is on the fence should register now before it's too late!